SURF-INSPIRED GROUP FITNESS.
WHERE CONCRETE MEETS THE SAND.
STRENGTH. BALANCE. CARDIO.
#NOBADDAYS
My hair salon moved across the street last year and in it's place came a new fitness center, City Surf. I have been eyeing it up for months and finally decided to get online and see what it was all about.
Here in Denver they offer a first week of unlimited classes for free. So, my friend, Nina and I signed up for one of the several different classes they had available:
BEACH BODY BOOTCAMP

CARDIO-BASED CLASS DESIGNED TO MAKE YOU SWEAT AND BURN CALORIES.

BIG KAHUNA

STRENGTH-INSPIRED CLASS FEATURING RESISTANCE BANDS AND SAND BELLS – GREAT FOR TONING AND MUSCLE DEVELOPMENT.

BUDDHA BOARD

OUR SPIN ON YOGA! A 50-MINUTE VINYASA FLOW ON OUR SURFBOARDS THAT WILL TAKE YOUR YOGA PRACTICE TO THE NEXT LEVEL.

CITY SURF

OUR SIGNATURE CLASS FEATURING SURF-INSPIRED MOVEMENTS UTILIZING SURFER SPECIFIC MUSCLE GROUPS.

CITY SURF CIRCUITS

WELL ROUNDED CARDIO, BALANCE, AND STRENGTH CLASS BROKEN INTO 30 SECOND STATIONS.

PIPE LINE

OUR VISION OF BARRE FOCUSED ON REFINED MUSCLE MOVEMENT AND UTILIZATION. GREAT FOR TONING AND POSTURE.

RIP CORE

A 50-MINUTE FORMAT FOCUSED ON YOUR CORE INCLUDING 10 MINUTES OF FAT-BURING CARDIO, 30 MINUTES OF TOTAL CORE WORK, AND FINISHES UP WITH 10 MINUTES OF STRETCHING.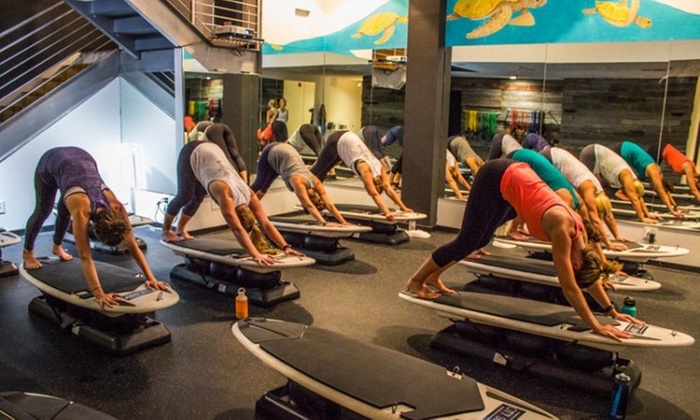 There are 11 boards available and classes definitely fill up, so signing up online is a good idea. The studio was beautiful and clean and the instructors were all very nice and helpful.
The workout is always written on a whiteboard at the front of the room so you know what's coming next and the instructors are great at demonstrating and modifying moves.  They also project old surf competitions on the wall all through the class.
We did a beach body bootcamp class and it was a perfect mixture of strength, cardio, and core. We did a lot of bodyweight exercises, but also incorporated resistance bands and sand belts.
I took another class a couple days later that was more focused on strength and balance. All in all it was super fun to try out for a few days and was definitely a full body workout. Click the black logo at the top of this post to check out there websites and see if there is a City Surf in your town!
Ever been to a City Surf? Or any other new unique fitness class?