On June 18th, two days after returning from Alaska, Joe and I ran the Leadville Trail Marathon in Leadville, Colorado.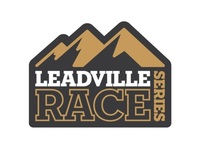 Just a quick reminder….this race is called "The race across the sky" and for good reason!
Three years ago, Joe and I ran the Heavy Half in Leadville, which was a 16 mile trail race, but this was far and away a thousand times harder.
Poor Joe hasn't run since he tore the ligaments in his ankle 6 weeks prior, so he was going to wing it. I had done so-so with training, but hadn't gotten any altitude training above 6000 feet.
This race starts just above 10,000 feet and goes up to just shy of 14,000 feet. A total of 6,333 feet of elevation gain….yes, kind of insane.
It was a very warm day for being that high up in the mountains and Joe and I really struggled with the heat. This was by far the most difficult race I've ever done and you probably couldn't pay me to do it again! haha. However, we dug deep and managed to finish in 7 hours and 30 minutes. That may seem REALLY slow for a 26.2, but keep in mind that even the top finishers come in around 4 hours.
Leadville Race Series definitely puts on some incredible events and the volunteers and aid stations are literally THE BEST! Thanks to everyone who helped out there!!
Have you done a trail marathon?